86% of car buyers use the Internet for research and 71% visit a sales website before purchasing a car. Getting a customer to walk into your dealership is harder today. On average, a buyer visits only 2 dealerships before purchasing compared to 5 previously. This means your website must do the initial sale for you. A powerful, functional website is vital and should work hard enough to drive traffic, capture leads and promote sales. We'll guide you through some must-have features for your dealership website.
Car History Report Integration
Getting a customer to trust you isn't easy. Car History report integration into your website is an excellent way to build confidence in your dealership. FREE car history reports on dealer websites give customers more reasons to stay and browse for longer – increasing the chance of converting prospects into genuine sales.
They contain important data to help customers decide whether to buy a car or not without forcing them to commit to the purchase.
They show that the seller is professional and transparent – giving buyers more confidence in the dealership's cars.
They allow dealers to generate leads, and accurately price and sell vehicles based on service history.
Website Videos
Research reveals that 69% of car buyers were influenced by YouTube over TV, newspapers and magazines. A whopping 83% of customers in Australia engaged with promotional video content with an impressive conversion rate of 57%, which is why videos are important to any dealership website.
Most buyers prefer videos because they are shorter and cover more information without consuming too much time.
Creative videos help dealerships stand out and remain in the minds of buyers.
Automated Inventory Management
The toughest part of managing inventory for dealerships is to keep information updated, consistent and accurate so you don't need to explain to customers why the car they set their heart on has already been sold. When prospective buyers are happy with the online website experience, they are more likely to buy.
Make sure all inventory (wherever listed) is updated and automatically synced online across all platforms.
Combine and match all data when ads are posted on multiple other websites to reduce buyer frustration.
Instant Car Finance
Time-poor prospects want instant information which is why this is an important feature to help capture the lead and ultimately make the sale.
Helps to calculate loan repayments instantly – increasing the chance of customer enquiries.
Helps customers calculate repayments on a particular vehicle without leaving your website.
Increased Local Search Visibility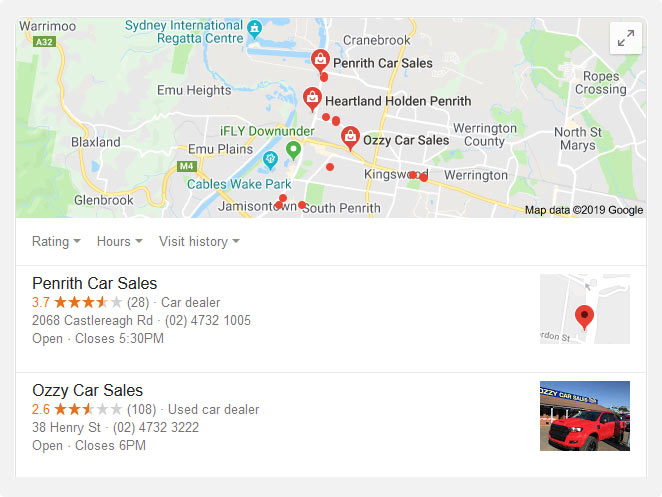 Even though most sales happen at the dealership, 97% of prospects are researching local products and services online.
Most buyers research dealers in their local area so websites should contain relevant local contact information, including Google Map directions, address and phone contact, and operating hours.
Consistent website contact information should be submitted to multiple classifieds and directories for enhanced visibility across all platforms e.g. Google Business
In Conclusion
With nearly 80% of the sale happening on the Internet before you even see the customer, you need to get your online presence right. Websites Made Easy can help you build a powerful website that not only captures more leads but turns them into genuine sales. For more information on the features call 02 9623 6403.