A majority of the caravan sale is done online before a buyer steps into your dealership. They research makes and models online because it is a far more efficient way to decide what they want and need. Advertiser sites, dealer websites, Facebook reviews and Google reviews play a massive role in helping buyers decide who to purchase from.
Since 81% of sales start with online research, your online presence has never been more critical. Your ads need to be perfect! Your vehicles must present well! And your yard must be appealing!
We've got you covered with these online tips.
#1 – Advertise in multiple places to reach more buyers!
Studies show buyers today visit only two dealerships before purchasing because they do most of their research online. They visit multiple advertiser sites to narrow down their choices.
Advertising on multiple sites makes your caravans more prominent, which increases your chance of making the sale. Some of the top advertisers for caravan dealers today include –
Caravan Camping Sales
Trader RVs
Caravan Camping Classifieds
Gumtree
Some dealer management systems also give you instant access to free advertisers to help you reach more buyers.
#2 – Use your website to advertise your caravans
A study in Australia revealed that 48 percent of customers won't consider a business that doesn't have a website. This is because businesses with websites seem more credible, which is what buyers want when they pay thousands of dollars.
A website shows caravan buyers your entire inventory in one place. This keeps buyers on your site for longer and encourages them to visit your dealership, which makes it easier for you to close the sale.
#3 – Track and manage your leads in one place
You may get hundreds of leads at caravan shows. But if you have no proper way to track and manage them, they'll start to fall through the cracks. This means you may lose out on a certain sale.
With an automated lead tracking tool at your fingertips, you'll be able to store critical customer information, add personalised notes and access historical communication data – all in one place.
If you successfully tracked and managed lead information, you'll be able to communicate with prospects faster and close more sales.
#4 – Customise your ads to attract more buyers
Online ads must look and sound tempting to attract more buyers, which is why it's important to customise them. Here are some ways –
High-quality images help buyers relate better to the caravan.
A business logo and borders make your caravan and dealership stand out.
Customised ad descriptions for different advertisers target only the most relevant prospects and increase your chance of making the sale. Buyers often look for these details –

Seating and sleeping capacity
Age and condition
Financing options
Warranty and insurance
Dealership location and trading hours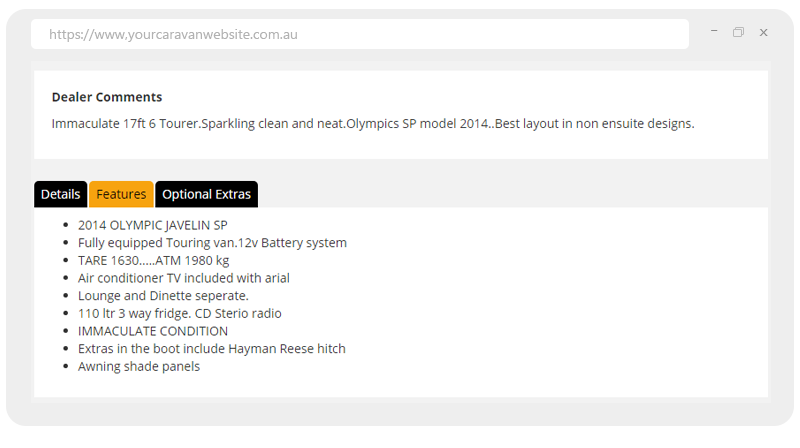 #5 – Automate advertising to avoid wasting time on repetitive tasks
Manually advertising to individual marketplaces is time-consuming and may cost you precious time. Your dealer inventory software system should automate the process, so can schedule ads to multiple advertisers at once. Focus your attention on getting more leads and closing more sales.
#6 – Access comprehensive reporting to make more informed decisions
Comprehensive reporting lets you track profits from each advertiser. You'll also be able to analyse in-depth sales data, so you have more insights into your performance. This will help you fine-tune your processes and make more informed decisions.
Online advertising is so important today. But you must have the right automotive inventory software to support it. EasyCars brings you EasyAd, the simplest and fastest online advertising module that can be managed anytime, anywhere, on any device and connects you to a wide selection of advertisers.
For a free demo on EasyAd, contact us today on 1300 473 744. It's so easy!