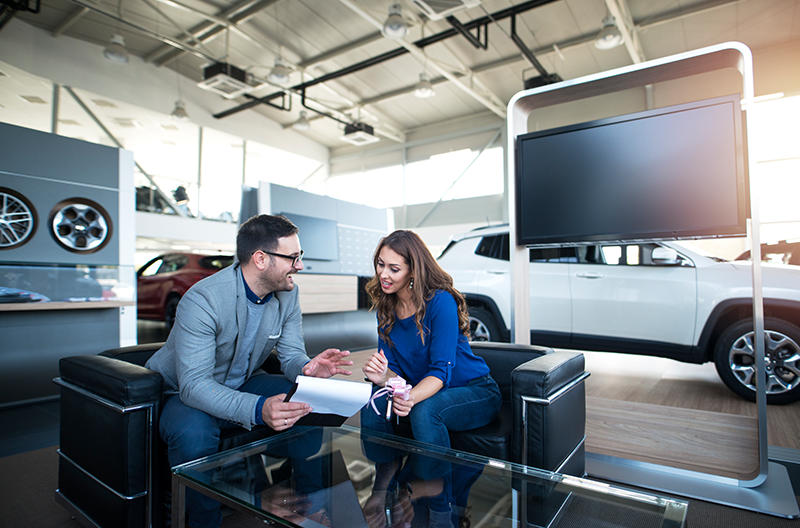 It may surprise you to hear but using a Dealer Management System has a massive impact on customers. Customers are by far the most important part of your dealership, without them, you don't have a dealership. To be successful buying and selling cars in Australia your dealerships needs to have the right systems in place that increase customer satisfaction and simplify the buying process.
A Dealer Management System (DMS) is an online-based management system that automates the daily tasks of operating a motor dealership. The easiest way to describe a DMS is it is heart of your dealership; everything your dealership does will flow through the DMS.
Arguably the biggest benefit of using a DMS is it simplifies your customers buying process. Here's how.
Simplifies the Customer Buying Process
The ultimate goal for a dealership is to make the customer buying process as fast and easy as possible. The greatest benefit of using a dealer management system is it greatly simplifies the buying process for customers.
For so long car buyers have had to accept the manual and drawn-out sales process. Using a DMS, your dealership can automate the entire sales process. From quotes to dealer finance options, to compliance and registration forms – everything can be automated. A DMS ensures car buyers don't need to do any of the heavy lifting. The easier the buying process is for customers, the more customers you will convert it's really that simple.
Related Article: What Tasks Can You Automate Using a Dealer Management System?
Fast & Cheap Dealer Finance
Finance will always be one of the most important parts of the car buying process. To get leads to convert into full paying customers your dealership needs to offer a wide range of fast and cheap dealer finance options.
Using a Dealer Management System like EasyCars, dealers can submit finance deals through a dedicated portal that includes over 60 leading automotive lenders. The benefit of dealer finance in a DMS is your customer will receive the fastest and cheapest lending rate based on their lending criteria.
Related Article: How Australian Motor Dealers Can Close More Finance Deals in 2022.
Accurate Online Vehicle Inventory Management
Online Advertising is essential for all dealerships. One of the most frustrating things for car buyers when using online advertisers is finding a car that they are interested in only to discover upon enquiry that the car has been sold. When this happens, many customers won't deal with your dealership again!
This is where a DMS can help! Managing online vehicle advertisements can be a strenuous process. Sometimes you may forget that vehicles that are in the process of being sold are still being advertised online. Using a DMS, dealers can automate their online advertising process. As a centralised solution, Cars automatically update as you buy and sell. Data will flow through to your advertising and update the listings accordingly - you don't need to do anything!
Related Article: 5 Costly Mistakes Australian Car Dealers Make in 2022.
Up-to-date Compliance Forms
It's no secret that the Australian Automotive industry faces constant scrutiny over compliance. The problem with dealer compliance is it constantly changes, which makes it extremely difficult to keep on top of. Making one slight error on compliance could cost you thousands in compliance fines or result in a total loss of your dealer license.
One of the biggest benefits of using a dealer management system is it automates the compliance process. Whenever there is an update to the compliance laws, the system will automatically update your forms to the latest version. The benefit of this is your dealership will always provide customers with the correct forms - removing the risk of making a costly compliance error.
Related Article: Car Dealer Fined $7725 for Inaccurate PPSR Reports.
Final Word,
A Dealer Management System has just as much impact on your customers than it does on your dealership. Using a Dealer Management System will reduce costs, increase efficiencies, and maximise customer conversions. A DMS is the best tool available for Australian Motor Dealers in 2022.
We hope you enjoyed reading this article. To read more articles like this visit the EasyCars latest news page here.
About EasyCars
EasyCars by Jeal is an Australian, web-based, dealer management system that automates the daily tasks of running a motor dealership. Using the latest technologies, EasyCars removes frustrations experienced at the dealership - opening your doors for greater growth.
EasyCars features include Simple Stock Management, Automated Advertising, Integrated Accounting, Government Compliance, Business Reporting, Reviews Management, Dealership Websites and more.
To learn more about EasyCars Dealer Management System and to arrange a no-obligation free demo, contact us today on 1300 473 744 or submit the form below.
Learn more about our dealer management system